Jordans Settle in Shelby and Jefferson Counties, Illinois
"November 3, 1818, Thomas Jordan, son of Thomas Jordan, Sr., paid $79.08, for 158.17 acres on the Goshen Road, in Jordan's Prairie. In 1818, he ran a tavern on the Goshen Road. On March 26, 1819, Jefferson County was formed with Mt. Vernon as the county seat.
On June 25, 1819, a tavern license cost $4.00 in Jefferson County.
Tavern Keepers Rates:
A single meal - $0.37½
Lodging - 0.12½
Keeping horse
One night - 0.50
Single feed - 0.25
In the fall of 1828, Thomas Jordan, on the advice of General G. W. Jones, settled on the shore opposite the site of Dubugue at Dunleith (East Dubuque), Illinois and handled Jones' shipping and other activities. For several years, Thomas Jordan kept a canoe ferry to the west shore of the Mississippi River for the trade and the mining explorers from Illinois and Wisconsin.... On April 29, 1831, Thomas Jordan paid a $5.00 ferry license fee and became the first licensed ferry between the Illinois side at East Dubuque of the Mississippi River and Dubuque's Mines." (Neal).
During an Indian attack, "...two men had 'foolishly remained on their farm' on the Menomine -which is a short distance from the Sinsinawa. One of them was killed, named Durgan, and the other made his escape. The troops, twelve in number, came not from Galena but from Platteville. They scoured the island, where the Indians were thought to be secreted, and the woods generally, until they arrived at Mr. (Thomas) Jordan's place where they found by indubitable signs that the Indians had crossed the river, for they had cut in two the large canoe of Mr. Jordan, and made their escape in half of it" (Hoffman).
Joseph Jordan and Oliver Morris were founders of the first Baptist Church in 1820 in the log court house of Mt. Vernon. On September 16, 1819, Oliver Morris conducted the first marriage in Jefferson County, Illinois of Garrison Greenwood and Elizabeth Jordan, daughter of Joseph and Elizabeth Estes Jordan.
As one follows the pioneering movements of the Jordans, places with the Jordan name become abundant. This is a photo near Jordan Chapel Cemetery in Shelby County, Illinois. This drainage that this road crosses is known as Jordan Creek.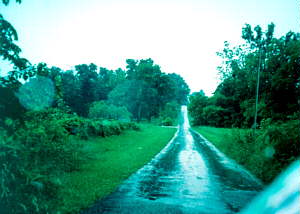 Jordan Creek Crossing
Mary Ann Jordan was the youngest child born to Francis Jordan Sr., and his second wife, Mary Ann Browning. She was born in the Old Jordan Fort on May 28th, 1814, and died in Shelby County August 23, 1871. Her obituary was read at her funeral and a portion is as follows:
"Mary Ann, daughter of Mary and Francis Jordan, was born May 28, 1814, in a fort erected for defense against the Indians, in Franklin County, Illinois. About the year 1825 she rode behind her father on horseback to this vicinity, where the wild Indian then built his camp-fires, and where she has since spent her earthly life. At age 19 she was married to Andrew E. Douthit, to whom she has been a faithful wife for 38 years. She is the mother of ten children, three of whom went to Heaven in infancy. The remaining seven children, five sons and two daughters, now stand at her open grave. For many years it was her prayer that if consistent with Father's will, she might live to see all her children grown and reach manhood and womanhood, and then be taken from her pain-shattered body to that heavenly home where her father and mother and most of her brothers and sisters have long since gone. Thank God! that life-ling prayer, which her eldest son has heard her pray, has been answered,
and she rests from her labors. Early in life she experienced the consolations of the Christian religion, and this was her sustaining hope in life, and her joy in view of death"(Kawula).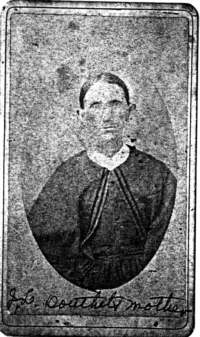 Mary Ann Jordan Douthit
(Photo courtesy of Shelby County Historical
& Genealogical Society)
Mary Ann Jordan married in Shelby County, Illinois August 13, 1833 to Andrew Ervin Douthit who was born in Lincoln County, Tennessee. After Mary Ann's death, Andrew married Eliza B. Curry Douthit on September 10, 1872. After Eliza's death in 1879, he married Mary Ann Harshey Kimmel Douthit, December 28, 1886. Andrew died March 17, 1889 and is buried in the Jordan Cemetery near Shelbyville.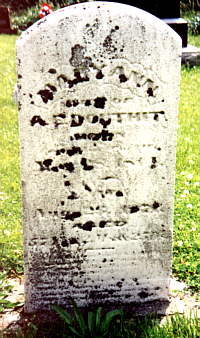 Mary Ann Jordan Douthit's Grave Marker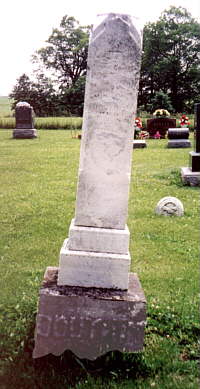 Andrew E. Douthit's Grave Marker
Jasper Lewis Douthit was the first child of Mary Ann and Andrew Douthit. He was born October 10, 1834. He ran away from home when he was sixteen years old in order to get an education. He got an education, became a preacher and began temperance movements in Shelbyville. (Douthit)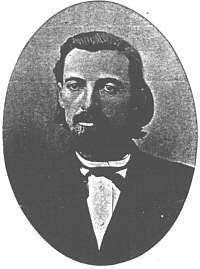 Jasper Douthit
"My mother's people, as far back as I can learn, were habitual pioneers, ever keeping on the frontier. They came to the territory of Illinois through Tennessee from the South about the year 1804... Soon after her marriage, all my mother's people emigrated to Texas. ..Jordan's Saline, noted on the map of Texas, was founded by my Uncle John Jordan. Grandfather Jordan (Francis Jordan) and some others died in Texas, and most of the survivors pushed on to California...(Douthit).
"My mother, when quite young, had to work hard helping to keep house for her father's large family of children and stepchildren. She had no chance to go to school, but she learned to read and write by herself after the days work was done. She was very conscientious -morbidly so, perhaps -and extremely sensitive to blame, but her conscience compelled her to speak out plainly for what she believed to be right and against what she believed to be wrong; and for her frankness she was often blamed by those about her. She would weep over this, and yet persist in saying the unwelcome things. Thus when we were in Texas I often heard her denounce slavery and plead for the abused negro, and she would not consent to my father's owning slaves" (Douthit).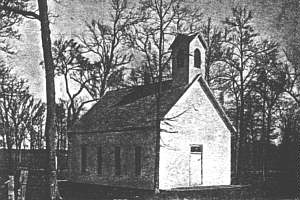 Jordan Unitarian Church
Established by Jasper Douthit September 29, 1870
John Jordan, son of Francis Marion and Mary Ann Browning Jordan, married Eliza Jane Sadorus Jordan on March 24, 1832 in Champaign County, Illinois. A little over a year later they, along with Francis and others, moved to Jordan's Saline, Texas.
"Most of the Jordans remained here (Jefferson Co., IL) till 1830 and 1832, then some went North and some went to Texas. A man of the name of Parker from Vincennes got a donation of a league of land (3 miles) in Texas, and took off quite a colony of Jordans, Greenwoods and others. Joe Jordan, William Jr., Thomas Jr., Oliver Morris, etc. all went to Texas" (Perrin).
"I think it was in the fall of 1843, when I was about nine years old, that my father and grandfather Douthit, with part of their families, went to visit my mother's father's kindred, who had gone to Texas. We went in wagons over rough, dangerous roads, being one month on the journey. There we visited my great-grandfather and great-grandmother Douthit, near Palestine, Texas. Great-grandmother was over one hundred years old then. (Douthit).